Asked
Boy oh boy, 2020. This year sure has been one for the books — the history books that is. Here at RALtoday, we feel this year should be commemorated, so that it can then be promptly forgotten. So, we want your help in creating a virtual community time capsule. The good news is — since it's virtual, we won't rerelease the coronavirus back into the atmosphere 30 years from now.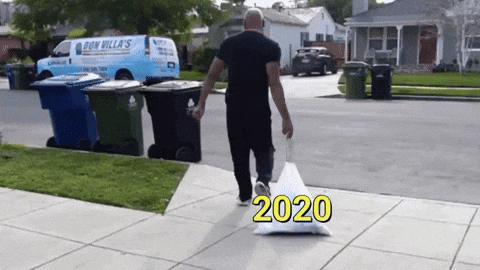 All kidding aside, we know this year has been full of once in a lifetime hardship, stress, and change. But we hope you have found a few moments, memories + lessons to celebrate even walking among this year's lows. 
Here's where you come in: To help us put 2020 to rest, submit your Raleigh-in-2020 selfies in your favorite mask, recipes, handwritten notes, diary entries, or blog posts, videos of your TikTok dance challenges, artwork and multimedia projects, messages for the future, or whatever else best represents this year to you. 
We'll be accepting submissions through Friday, Dec. 18, and then we'll choose our favorites to live encapsulated on the world wide web for eternity….or something like that. We know each of you has a story to tell from this past year, so it's our hope this virtual time capsule will shed some light on our city's collective experiences in 2020 for future generations (or even just us in a few months or years).
Answered
🎶 Hey look, ma — we made it. 🎶 No matter where you are, 2020 has been one for the books. At home here in Raleigh, we've celebrated, quarantined, protested, cooked, built, shared, innovated, voted + when all else failed, we danced.
We know a lot of you probably just want to forget this year ever happened. But there are lessons to be learned from all we've experienced as a community: adaptation, growth, resilience, patience, and perspective (to name a few). To preserve these lessons and memories for the future, we've been collecting your virtual memories for a digital time capsule.
For the past month, we've asked you to submit your most meaningful Raleigh-in-2020 related photos, videos, diary entries, blog posts, text messages, screenshots, etc. In total, we were able to accept 15 "items" from residents around the Triangle — including images of journal entries, photographs from quarantine parties, abstract artwork, virtual learning + even 2020 weddings. Here's what you shared with us:
💻 
Setting up a work area + becoming a tech wizard to help our kiddos attending Wake County Public School Virtual Academy this year.
💗
An 88-year-old woman meeting her first great grandchild from behind a sliding glass door.
😅
Becoming meme makers to laugh at our 2020 expectations vs. reality.
💍
 Getting married in Mexico just before COVID-19 and moving to Raleigh right after.
🤗
Finally getting to see our loved ones (
even if it is across a 6 ft. table, through plexiglass
) after only seeing them through FaceTime for ~6 months. 
🐾 Adopting a new pup named Maisie through
Triangle Beagle Rescue
after losing their 12 year old Beagle Max in January.
🖍️ Looking for new and creative ways to spend time with little ones.
🎨 Expressing feelings through artwork — this piece includes original recipe cards from the artist's mother as the base of the paint.
🏫 Getting ready for Assistant Principal duties and a day of virtual meetings at Cary High School.
💃 Learning TikTok dances with our families because we're all Debbie Allen-level choreographers now.
🗳️
Heading to the polls, either in person, early, or by mail, and showing off our "I Voted" stickers (and masks).
🌷
 Hosting a virtual Mother's Day and other events.
🥂 Tying the knot in beautiful outdoor settings.
🏈 Repping local teams and showing off your personality with custom masks.
✍️ Keeping a journal or diary to document this strange year (see more here).
Each image and link tells a story and — we hope — will shed some light on our city's collective experiences for auld lang syne whenever this webpage is revisited. We don't know what the future holds, but we're glad to be on this journey with you, Raleigh.